Welcome to Filerobot!
Filerobot's mission is to store, process and deliver your media assets rocket fast to your users everywhere in the World. Consider Filerobot as your assistant for managing your web or mobile application's media assets in the Cloud. It is an end-to-end solution covering all stages of your media or file lifecycle including fast upload via reverse CDN, redundant storage, management, optimisation and accelerated delivery.
Filerobot's servers are distributed over the World and are able to handle high loads, traffic bursts and bring your assets closer to your application's users. The Digital Asset Management (DAM) console, the Uploader widget and the extensive set of APIs and developer plugins offer full flexibility for a simple and quick implementation with few lines of code.
Scalability, Flexibility and Acceleration are the DNA of Scaleflex, the Team behind Filerobot and Cloudimage.

Filerobot's intuitive Admin console (the Filerobot Admin), Uploader widget and various delivery Plugins can be used by photographers, marketers, content managers and anyone else managing media assets without any programming background. Developers can use the powerful Filerobot REST API to upload and manage the lifecycle of their assets.
We call an asset a file or resource that can be hosted in the Cloud and delivered to your end users over HTTPS.
Terminology: Asset, media asset and file are use interchangeably in the context of Filerobot.
Filerobot can store and deliver over CDN any file type. It can process on-the-fly or asynchronously following file types:
Asset type (extension)
Supported process
Images (.jpg, .png, .gif, .bmp, .tiff)
Resize, Crop
(re)Compress
Optimise (WebP)
Transform (filters: greyscale, contrast, ...)
Watermark
JS / CSS code files
Dynamic code minification
Videos
[asynchronous] transcoding for adaptive streaming (coming)
Audio
[asynchronous] Transcoding (coming)
Others (PDF, Office documents, ...)
Storage and CDN acceleration
How to read?
Filerobot's documentation is divided in 3 main chapters, which cover the 3 main stages of the media asset lifecycle:
There is an additional section about Plugins & Widgets, which documents the open-source plugins developed and maintained by Scaleflex.
All features of Filerobot are available via UI in the DAM Console, via the Filerobot Uploader or via API.
Architecture
Filerobot's architecture relies on 4 principles to deliver the fastest uploading, most reliable storage and fastest digital asset delivery service:
Cross-regional storage and uploading architecture (reverse CDN)
Multi-tier upload process
Distributed computing for optimal processing performance
Multi-CDN delivery for asset acceleration
Multi-tenant software architecture for scalability and flexibility
Cross-regional storage and uploading architecture (reverse CDN)
Filerobot's object storage is spread across multiple data centers from different providers in multiple regions world wide. Every object storage node can be accessed by globally distributed uploader nodes, which form a reverse CDN for optimal upload speed, regardless of where the uploading client is located.
Filerobot's file management layer provides additional features on top of the object storage like listing, searching, tagging, meta-data and much more.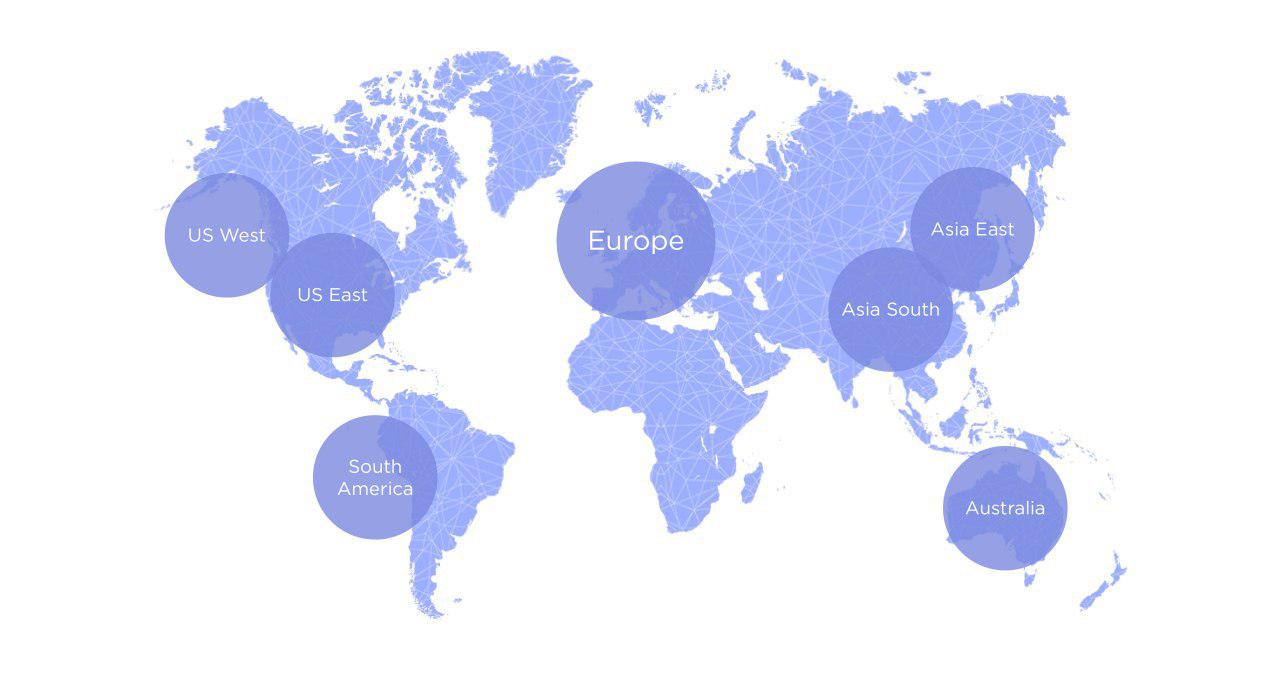 Clients uploading into Filerobot's store via the Filerobot Uploader widget or via the upload API will connect to the geographically closest uploader and push the assets to the object storage closest to the uploader. Background processing will replicate uploaded files around the world and later delivered to the requesting client from the closest possible storage and CDN node with maximum performance around the World.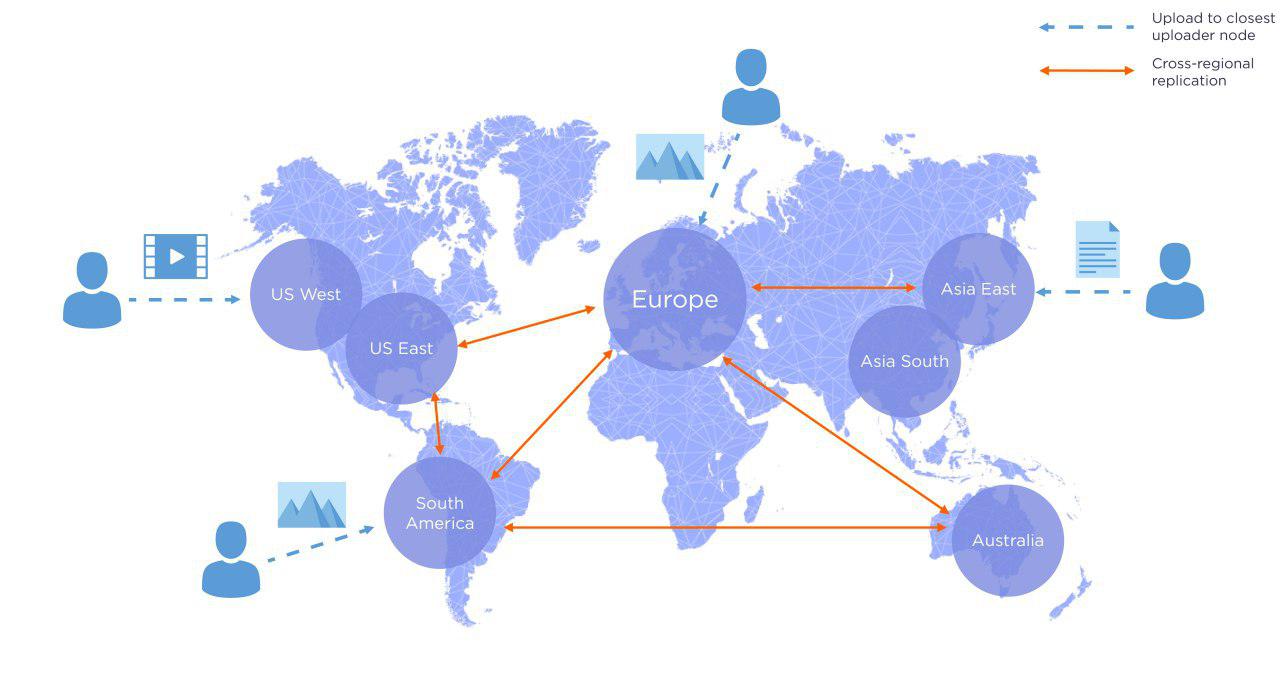 Multi-tier upload process
When uploading a file into Filerobot, the file is first uploaded into a distributed uploading infrastructure composed of multiple Uploader servers world wide (sometimes called reverse CDN). Once the file has been uploaded on the closest Uploader, it is pushed to multiple object storage backends in multiple regions for replication and faster retrieval. The following diagram describes the upload process: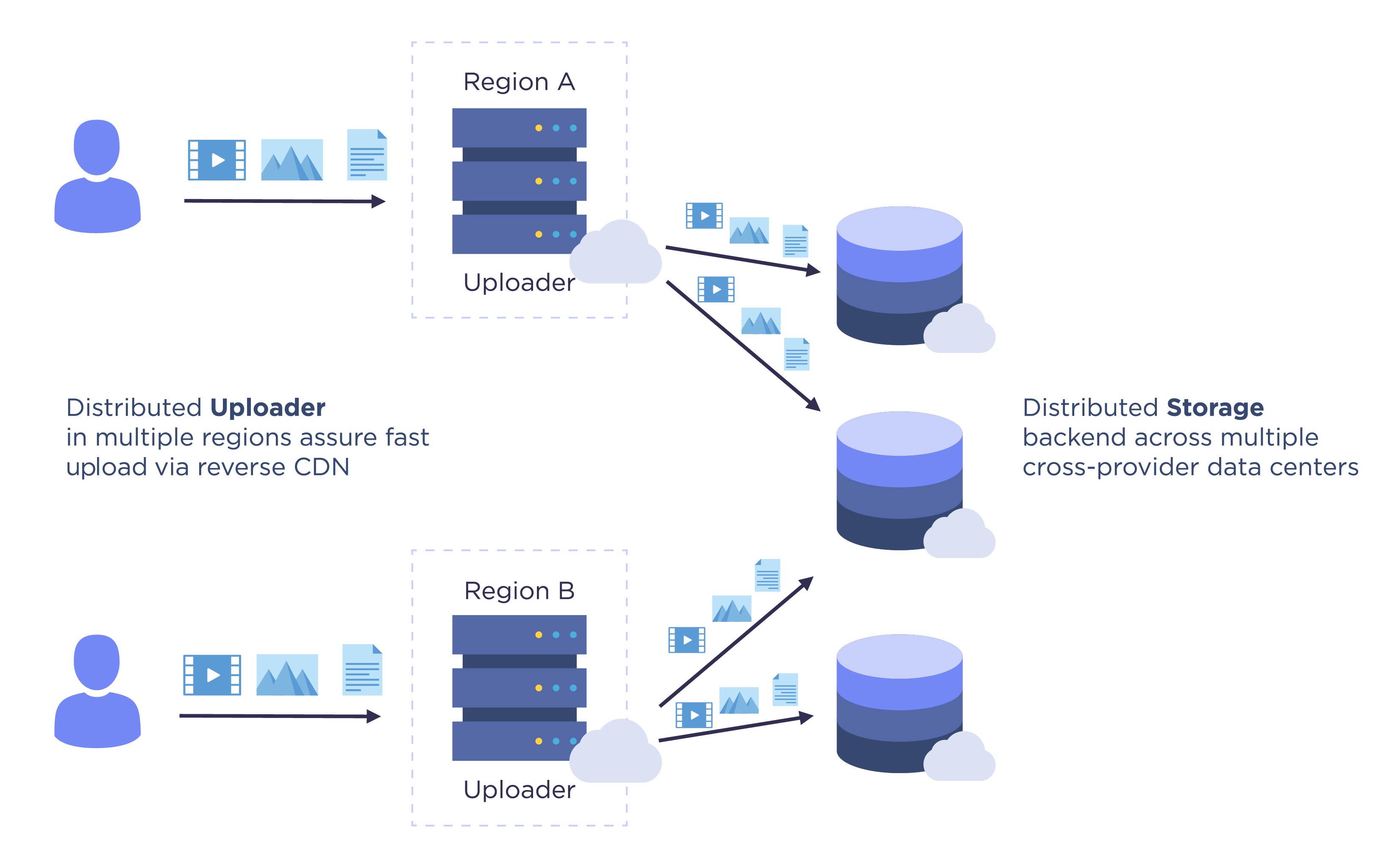 For thee purpose of simplicity, we have pictured only 2 regions above. Filerobot uploadedistributed across the World. and storage backends are distributed across the World.
Distributed computing for optimal processing performance
Once uploaded, assets can be manipulated and optimized before delivery over CDN to any web or mobile application. Filerobot's computing infrastructure is cross-regional and cross-provider to avoid any downtime and provide maximum performance in high traffic or burst scenarios.
Images do not have to be uploaded in Filerobot's store for Filerobot to optimise and deliver them over CDN. If you do not wish to leverage Filerobot's storage and asset management features (auto-tagging, versioning, cross-storage replication, ...), use our Cloudimage service, which Filerobot relies on for image transformation and delivery.
Filerbot currently supports manipulation of images and JS/CSS code file. Additional file manipulations are under way.
Multi-CDN delivery for asset acceleration
Filerobot leverages Content Delivery Networks (CDNs) from multiple providers to ensure fast and reliable delivery of your assets globally. All files stored and|or optimized by Filerobot are delivered over CDN to your web or mobile application's users. CDNs allow to absorb traffic bursts and improve the user experience on the Web and Mobile significantly.
We are constantly benchmarking CDN performance and are able to select the best possible CDN for your target users.
Did you know?Half of web users expect a website to load within two seconds.
According to Amazon, 100ms additional page loading time result in 1% less conversion and revenue.
Multi-tenant software architecture
Multi-tenancy is at the core of the Filerobot service. When registering for an account, you obtain access to a multi-tenant management console where you can create separate projects to distinguish assets. A project can be a customer if you are a digital or web development agency or it can be a web or mobile application you are working on.
Every project has it's own storage container as well as CDN distribution. Usage statistics are dedicated on a per-project basis. Each project is identified by an unique Filerobot token.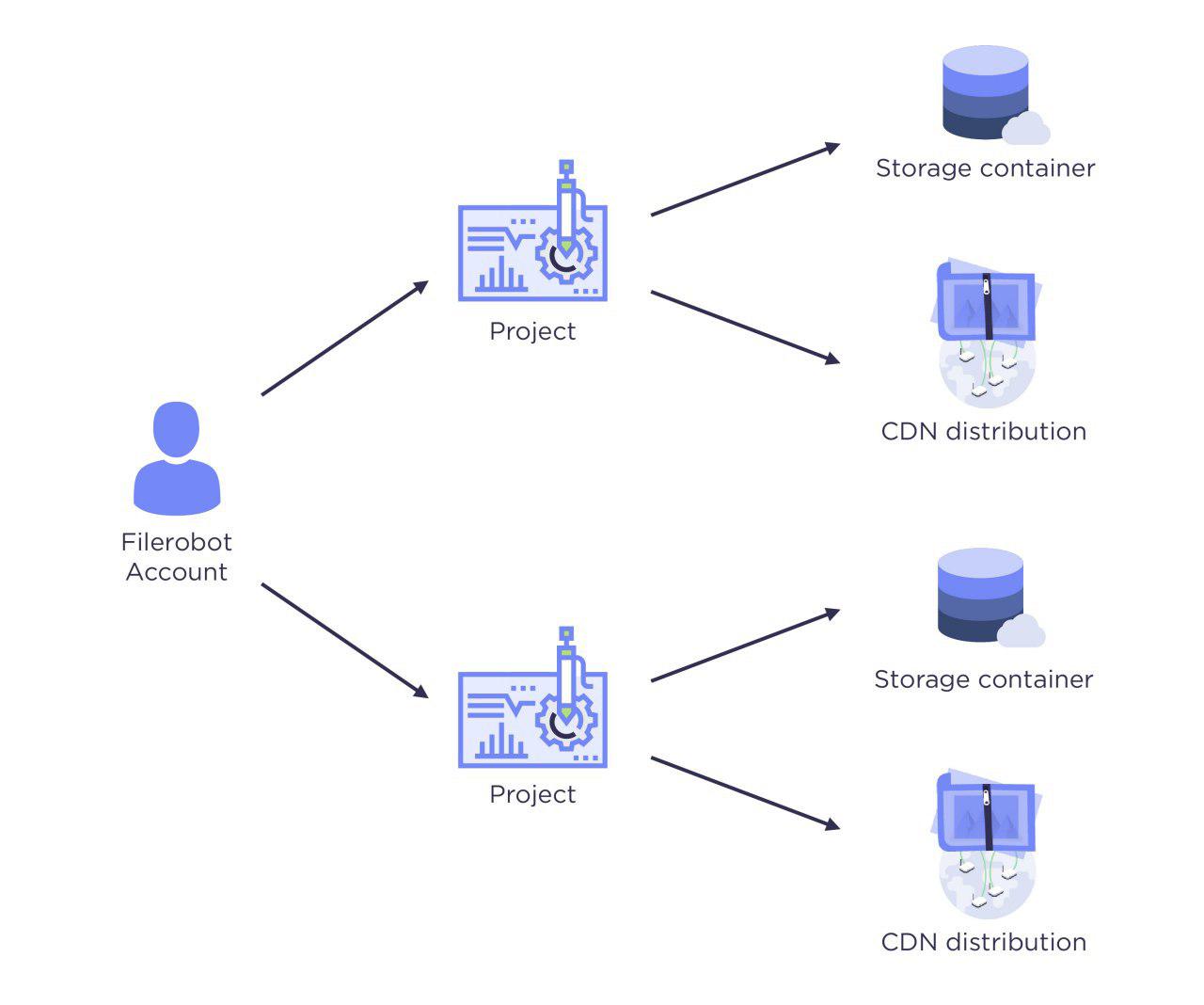 Contact us if you need multiple projects/tokens for your account. Multiple tokens require an ADVANCED plan.
Just looking for image CDN?
Filerobot is the evolution of Cloudimage as requested by many of our users. Cloudimage is the first Cloud service launched by the Scaleflex team back in 2015 and the European leader in image resizing and acceleration. If you do not need asset storage and management but are just looking to resize, compress and accelerate your images, check out Cloudimage.